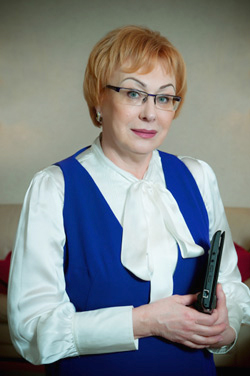 Tetiana Pertseva
Rector of the Dnipro state medical university,
Academician of NAMS of Ukraine,
Honored scientist of Ukraine,
Honored worker of Public Education,
Doctor of Medicine,
Professor of the department of Inner Medicine N 1. 

https://orcid.org/0000-0003-3473-2288 
Scopus Author ID
ResearcherID
Google Scholar
PubMed
In 1975  graduated from Dnipropetrovsk medical institute (now Academy) with  honours degree. Up  to the year 1980 worked as a district physician. In 1980-1983 Tatiana Pertseva – clinical ordinator, assistant, and since the year 1988  – associate professor of the department of hospital therapy N 1.
In 1984 defended PhD thesis, in 1992  -  Doctoral thesis. In 1993 Т. Pertseva was confirmed in the rank of Professor.
Since the year 1992 till the year 2016 Т. Pertseva – head of the department of intermediate level therapy and endocrinology (later it was reorganized into the department of inner medicine N 1).
The main research area of Т. Pertseva is pneumology. Under her guidance and support «Asthma-school» and «School for patients with chronic obstructive pulmonary disease» have been opened and are functioning. In 1997 within the framework of All-Ukrainian Program «Healthy lungs of Ukraine», Regional consulting-diagnostic center «Pulmis» and center «Spiro» were opened.
Professor T. Pertseva took an active part in developing of Ukrainian consensuses on diagnostic and treatment of bronchial asthma, chronic obstructive pulmonary disease, pneumonia. Other research areas being developed by T.O. Pertseva are devoted to the problems of inner medicine.
Т. Pertseva has always interlinked research, clinical and teaching work with public activity: 1992–1993 – Dean of the medical faculty, since 1993 – the second Vice-Rector for academic affairs, since 1996  – Vice-Rector for Academic affairs, and since  2004 till 2017 – the first Vice-Rector for academic affairs.
For many years Professor Т. Pertseva has been a member of Expert Council on medicine and pharmacy of SAC of Ukraine, member of State Commission for Academic Degrees (SCAD) of Ukraine. Professor T. Pertseva was a Secretary of clinical group of European Respiratory Society and a national delegate from Ukraine. Currently T. Petseva is the Chairman of the expert council on Internal Medicine of SCAD of Ukraine, Chairman of the Association of internists of Dnepropetrovsk region, a member of the Ukrainian Society of TB specialists and pulmonologists, Ukrainian society of allergists. Professor T. Pertseva presided over section meetings at scientific congress of the European Respiratory Society. Tetiana Oleksiivna is a member of editorial boards and boards of seven professional journals. T. Pertseva was repeatedly awarded diplomas of the Ministry of Health of Ukraine, the Cabinet of Ministers of Ukraine, Dnipropetrovsk Regional State Administration, was awarded the Medal of Prince Volodymyr and the Order of Princess Olha, has an award for the development of Dnepropetrovsk city. In 2003 Tetiana Oleksiivna was elected a corresponding member of NAMS of Ukraine in specialty "therapy".